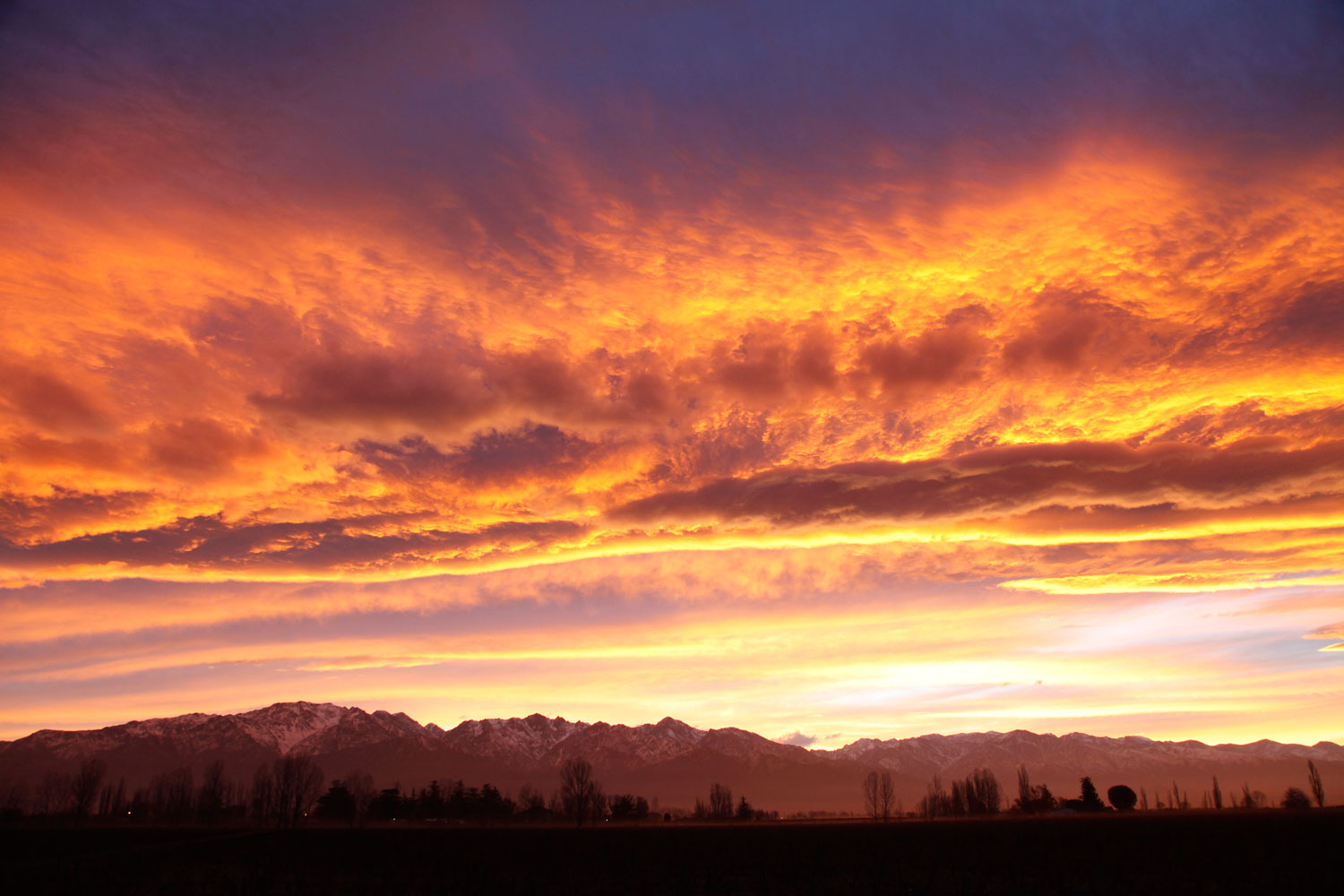 Sol y estrellas
Los días de sol en Mendoza son muchos a lo largo del año. Podemos, estadísticamente hablando, considerar un porcentaje de días de sol no inferior al 70% sobre el número de días del calendario. Estos días se caracterizan por un sol de montaña, intenso y acompañado por cielos tersos. La luz es muy intensa y constante. A los días de sol, tanto en inverno como en verano, los acompañan noches estrelladas. La cruz del Sur, cuando no hay Luna, se mira con claridad. En el verano las noches son frescas, sin embargo en el Valle de Uco, al Sur-Oeste de Mendoza, son especialmente frescas. La Consulta no es una excepción a la regla, presentándose como una "isla" en el medio del Valle. La temperatura puede llegar, en otoño, a alcanzar los 0°C dejando los racimos, en la mañana, muy frescos y con rocío. En el día, sin embargo, la temperatura se eleva y puede alcanzar los 34°C. Este cambio térmico entre el día y la noche es un factor clave del por qué las uvas en esta región siempre tienen perfumes muy intensos y frescos.                            Las temperaturas en el inverno bajan. Cae nieve, a veces mucha, sobre todo en los meses de julio y agosto. Sin embargo la nieve no dura demasiado una vez que sale el sol, se derrite rápidamente y recupera así los niveles de humedad usuales. En primavera y en otoño puede haber heladas, y esto es un problema tanto para la brotación de las gemas como para la cosecha de la uva. Las heladas se frenan de varias maneras, una de ellas es con el sistema tradicional de riego por inundación del viñedo: el agua no permite que baje demasiado la temperatura y de todas maneras, no alcanza los 0°C (considerado el límite crítico por excelencia). Otra forma para protegerse contra el cambio brusco de temperatura es usar un sistema de plantación como el parral. La temperatura en el invierno puede llegar a los -5°C por un lápso no mayor a los 2 ó 3 días. En el verano se pueden alcanzar los 40°C, sin embargo esto ocurre en las zonas más al Este de la cordillera y no en el Valle de Uco. Las razones que explican el clima apacible de Mendoza se deben más allá de la altura (mil metros sobre el nivel del mar) a la latitud respecto al ecuador. De hecho estamos en una zona más cercana al ecuador en relación a las regiones europeas de producción de vino como Francia, Italia o la misma España, que pueden contar con la influencia decisiva del Mediterráneo. La altura compensa entonces la cercanía al ecuador y los cambios térmicos son la lógica consecuencia de esta situación tan particular.
---
 Sun and Stars
Mendoza enjoys many sunny days in the course of a calendar year. In statistical terms, there percentage is no less than 70% of days during the year. And they are mostly the bright sunny days with clear skies typical of mountain areas. Light is very intense and constant. Sunny days, in Winter as in Summer, alternate with starry nights. When there is no Moon, the Southern Cross is clearly visible with the naked eye. Summer nights are cool and in the "Uco Valley" itself to the South West of Mendoza are particularly fresh. And La Consulta is no exception to the rule, appearing like an island in the centre of the Valley. Temperatures in Autumn may even come close to freezing so that in the morning the grapes are very fresh and pearled with frost. During the day in Autumn, the temperature rises and to an average of 33-34 °C. Yet temperatures of 38-40 °C are sometimes experienced. This temperature excursion between day and night is one of the key reasons why grapes grown in this region always have very evident and fragrant perfumes. Temperatures in winter are lower. Snowfall is not uncommon and even recurrent in Winter months (July and August). Yet the snow usually does not last long once the Sun comes out again to retain a constant low moisture level: it melts very quickly. Frosts may occur in Spring or Autumn and this can pose a problem for grape germination and harvesting alike. These frosts can be combatted by using a variety of systems – the traditional method is flood-irrigation of the vineyards: water does not allow temperatures to fall too much or in any case below zero, generally accepted as the critical threshold. Another form of protection against abrupt changes in temperature is to use planting systems for growing grapes such as the "pergola" or "arbour" method. Winter temperatures very rarely fall as low as -5 °C and this generally happens for no more than two or three days. It is not uncommon that temperatures of even 40 °C are reached but this is especially so in areas in the eastern Cordillera and not in the Uco Valley. The reasons for the Mendoza region's mild climate not only lies in its altitude (1000 metres above sea level) but also its Equatorial latitude: the area is much closer to the Equator than European wine-growing regions in France, Italy and Spain that are significantly influenced by the Mediterranean. In this context, altitude offsets proximity to the Equator and temperature fluctuations are the logical consequence.
---
 Sole e stelle
Le giornate di sole a Mendoza sono tante. Possiamo, statisticamente, considerare una percentuale non inferiore al 70% sul totale dei giorni del calendario. E queste giornate sono in genere di un Sole di montagna, limpido, accompagnato da cielo terso. Una luce intensa e costante. Alle giornate di sole, tanto d'inverno come d'estate, si alternano notti stellate. La Croce del Sud, quando non è presente la Luna si vede con chiarezza ad occhio nudo. D'estate le nottate sono fresche, ma in genere nel Valle de Uco, a Sud Ovest di Mendoza, particolarmente fresche. E La Consulta non fa eccezione alla regola presentandosi come un'isola nel mezzo della Valle. La temperatura può arrivare in autunno a sfiorare lo zero lasciando i grappoli, la mattina, molto freschi e imperlati di brina. Durante la giornata la temperatura, sempre d'estate, si alza e raggiunge mediamente i 33/34 gradi. Ma può arrivare fino a 38/40°. Questo scambio termico tra il giorno e la notte è uno dei fattori chiave del perché le uve in questa regione hanno sempre profumi molto spiccati e fragranti. Le temperature in inverno si abbassano. Non è infrequente avere precipitazioni nevose, anche ricorrenti d'inverno (luglio/agosto). Ma la neve caduta si scioglie velocemente una volta uscito di nuovo il sole e mantenendosi costante il livello basso di umidità. In primavera e in autunno possono verificarsi gelate improvvise e questo può essere un problema o per la germogliazione o per la raccolta delle uve. In ogni caso le gelate si combattono con vari sistemi, il sistema tradizionale è l'irrigazione per inondazione del vigneto: di fatto l'acqua sparsa in tutto il vigneto non permette alle temperature di abbassarsi troppo o comunque sotto lo zero, considerata la soglia critica per eccellenza. Una altra forma per far fronte a questi cambiamenti bruschi di temperatura sono i sistemi di impianto per la coltivazione della vite: la pergola aiuta molto a contrastare il pericolo delle gelate. Le temperature d'inverno molto raramente raggiungo i -5° e questo per uno/due giorni al massimo. Non è infrequente invece che si raggiungano anche i 40°, ma soprattutto nelle zone ad Est della Cordigliera e quindi non nella Valle di Uco. Le ragioni di questo clima mite per la regione di Mendoza è dovuto oltre che all'altezza (1.000 metri sul livello del mare) anche alla latitudine rispetto all'equatore: siamo infatti in una zona più vicina all'equatore rispetto alle corripondenti regioni della zona boreale come Francia, Italia e Spagna che risentono moltissimo dell'influenza del Mediterraneo. L'altitudine sopra il livello del mare compensa in questo senso la maggior vicinanza rispetto all'equatore.